Découvert inopinèment sur un des sites de retro-clones présents sur le net, "What Kind of D&D Character Would You Be?" est un petit bijou d'humour. Totalement inutile, furieusement ancré dans la culture AD&D et donc incontournable pour tout rôliste "donjonneur" qui se respecte, cet étonnant questionnaire propose de déterminer quel type de personnage de D&D vous correspond. Après avoir répondu à tout un panel de questions, le logiciel détermine la race, la classe, le niveau et l'alignement qui coïncident le plus à vos réponses. Le résultat est étonnamment complet et comprend même les statistiques de base (résultats non-garantis) !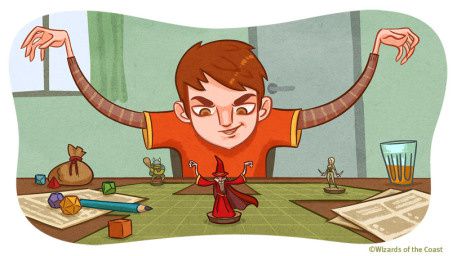 Pour avoir réalisé l'expérience moi-même, je sais donc que c'est le barde demi-elfe (chaotique-bon) qui correspond le plus à ma personnalité.
Et avant de rigoler, sachez que je débute directement au cinquième niveau ! Et toc !
Et vous ? Quel genre de personnage D&D êtes-vous ?

Pour en avoir le coeur net...
... FAITES LE TEST !
Bon questionnaire et bons jeux !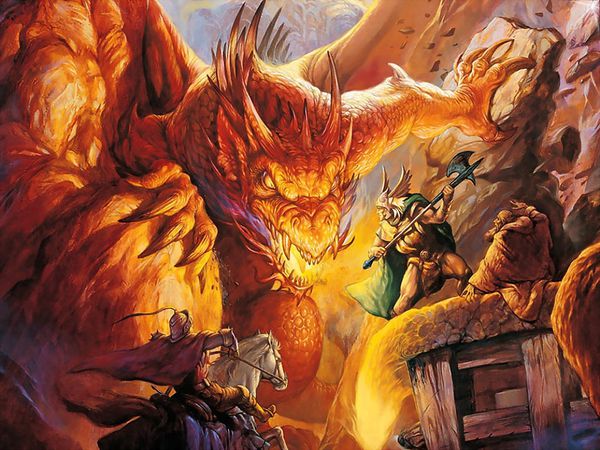 Ci dessous, les résultats de mon questionnaire :
You are a : Chaotic Good Half-Elf Bard (5th Level)
Ability Scores:
Strength- 13
Dexterity- 12
Constitution- 13
Intelligence- 13
Wisdom- 14
Charisma- 11
Alignment:
Chaotic Good- A chaotic good character acts as his conscience directs him with little regard for what others expect of him. He makes his own way, but he's kind and benevolent. He believes in goodness and right but has little use for laws and regulations. He hates it when people try to intimidate others and tell them what to do. He follows his own moral compass, which, although good, may not agree with that of society. Chaotic good is the best alignment you can be because it combines a good heart with a free spirit. However, chaotic good can be a dangerous alignment when it disrupts the order of society and punishes those who do well for themselves.
Race:
Half-Elves have the curiosity and ambition for their human parent and the refined senses and love of nature of their elven parent, although they are outsiders among both cultures. To humans, half-elves are paler, fairer and smoother-skinned than their human parents, but their actual skin tones and other details vary just as human features do. Half-elves tend to have green, elven eyes. They live to about 180.
Class:
Bards- Bards often serve as negotiators, messengers, scouts, and spies. They love to accompany heroes (and villains) to witness heroic (or villainous) deeds firsthand, since a bard who can tell a story from personal experience earns renown among his fellows. A bard casts arcane spells without any advance preparation, much like a sorcerer. Bards also share some specialized skills with rogues, and their knowledge of item lore is nearly unmatched. A high Charisma score allows a bard to cast high-level spells.
Detailed Results:
Alignment:
Lawful Good ----- XXXXXXXXXXXXXXXXX (17)
Neutral Good ---- XXXXXXXXXXXXXXXXXXX (19)
Chaotic Good ---- XXXXXXXXXXXXXXXXXXXX (20)
Lawful Neutral -- XXXXXXXXXXXXXXX (15)
True Neutral ---- XXXXXXXXXXXXXXXXX (17)
Chaotic Neutral - XXXXXXXXXXXXXXXXXX (18)
Lawful Evil ----- XXXXXXXXXXXXXXX (15)
Neutral Evil ---- XXXXXXXXXXXXXXXXX (17)
Chaotic Evil ---- XXXXXXXXXXXXXXXXXX (18)
Law & Chaos:
Law ----- XXXXXXX (7)
Neutral - XXXXXXXXX (9)
Chaos --- XXXXXXXXXX (10)
Good & Evil:
Good ---- XXXXXXXXXX (10)
Neutral - XXXXXXXX (8)
Evil ---- XXXXXXXX (8)
Race:
Human ---- XXXXXXXXXXXXX (13)
Dwarf ---- XXXXXXXXXX (10)
Elf ------ XXXXXXXX (8)
Gnome ---- XXXXXX (6)
Halfling - XXXX (4)
Half-Elf - XXXXXXXXXXXXXX (14)
Half-Orc - XXXXXX (6)
Class:
Barbarian - (0)
Bard ------ XXXX (4)
Cleric ---- (-8)
Druid ----- (-23)
Fighter --- (0)
Monk ------ (-19)
Paladin --- (-17)
Ranger ---- (0)
Rogue ----- (-2)
Sorcerer -- XX (2)
Wizard ---- (0)